"Architecture should speak of its time and place, but yearn for timelessness. – Frank Gehry"
---
---
---
---
September 30 – October 6 2017
---
Opportunities Listing
Call for Presenters Listing
Title: Call for Presenters for OAA Continuing Education Sessions Deadline for Call for Proposals: September 29, 2017
Eligibility: Open to educators, presenters with expertise in their field Theme: Bold by Design
Submission form and details: visit www.oaa.on.ca, Call for Presenters online submission form
Session Audience: Leaders in architecture and design, Emerging talents in architecture, Students entering the field, Built environment enthusiasts, Allied professionals, Faculty, Media
Session Event Date: ConEd Sessions, OAA Conference, May 23-25, 2018 Event Location: Toronto, Ontario
Visit the OAA Website at www.oaa.on.ca; learn more about the opportunities and the process.
The Ontario Association of Architects is a self-regulating, self-governing profession under the Architects Act. The association governs its members and regulates the practice of architecture in Ontario in order that the public interest may be served and protected. As part of its regulatory mandate, the Association delivers a wide range of programs and services to its members and the public.
---
Winning projects of 2017 Canadian Green Building Awards represent best in sustainable building
The winners of the 10th annual Canadian Green Building Awards, a program hosted by Sustainable Architecture & Building [SABMag] in collaboration with the Canada Green Building Council, represent some of the best examples of sustainable, high-performance building design in Canada. Projects were awarded in nine categories and can be seen here : http://www.sabmagazine.com/winners2017.html
The massive Marine Gateway in Vancouver has all the components of a complete community, whereas the De Waal House in Edmonton is designed for net zero energy. The LEED Platinum Amber Trails Community School in Winnipeg shows how design can extend the reach of a school, while Eva's Phoenix, a converted warehouse in Toronto, creates a supportive community for at-risk youth.
Queen Richmond Centre West in Toronto demonstrates adaptive re-use of heritage buildings, while the restoration of the Sir John A. Macdonald Building in Ottawa integrates new building systems into historic architectural elements. Also in Toronto, River City Phase 1 and 2 addresses the challenges of living sustainably within a dense urban environment, while the Lockport Beach House on the Nova Scotia coast offers an alternative view of 'touching the Earth lightly'. And finally, the Gare Fluviale, a ferry terminal in Lévis, Québec, makes an elegant experience for two million passengers per year.
Our special thanks to our sponsors: National Sponsors the Canadian Precast Prestressed Concrete Institute and Masonite Architectural; and Category Sponsors Altex, Uponor and Inline Fiberglass.
Information : dgriffith@sabmagazine.com; 800-520-6281, ext. 304.
2017 Winners- Canadian Green Building Awards
De Waal Net Zero House, Edmonton, De Waal Developments. Technical Award/ Prix technique
Lockeport Beach House, Nova Scotia. Nova Tayona Architects. Residential [Small] Award/Prix résidentiel (petite taille)
River City Phase 1 & 2, West Don Lands, Toronto. Saucier+Perrotte Architectes and ZAS Architects. Residential [Large] Award/ Prix résidentiel (grande taille)
Queen Richmond Centre West, Toronto, Sweeny&Co Architects Inc. Commercial/Industrial [Large] Award/ Prix commercial/industriel (grande taille)
Gare fluviale [Ferry Station] de Lévis, Quebec, Gagnon Letellier Cyr Ricard Mathieu & Associé Architectes. Institutional [Small] Award/Prix institutionnel (petite taille)
Amber Trails Community School. Winnipeg. Prairie Architects Inc. Institutional [Large] Award/Prix institutionnel (grande taille)
Sir John A. Macdonald Building. Ottawa, NORR Limited and MTBA Associates Inc. Existing Building Upgrade Award/Prix amélioration/rénovation d'un bâtiment existant
Eva's Phoenix. Toronto, LGA Architectural Partners. Interior Design Award/Prix design intérieur
Marine Gateway. Vancouver, Perkins+Will. Mixed Use Award/ Prix usage mixte
---
Architecture Affects Everyone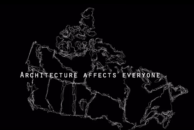 Six intern architects across the country explore Canadian architecture and the importance of design to our lived experience. Images portray the built environment from the unique eye of an architect, and commentary showcases the complex and diverse nature of the profession. Public interviews and a nation-wide Instagram competition helped inform the themes examined. Sustainability, public space, and the collective memories preserved through architecture are considered.
---

Robert Mellin (right) and RCA Past-President Joseph-Richard Veilleux present the RCA Medal to arts advocate Kim Fullerton at the May 2017 RCA Annual General Assembly in Toronto.
McGill School of Architecture Associate Professor Robert Mellin, CM, NLAA, FRAIC, has been elected President of the Royal Canadian Academy of Arts. The RCA is an honourary organization of established professional artists and designers from all regions of Canada. Members practice in more than thirty visual arts disciplines including but not limited to painting, print-making, architecture, sculpture, design, photography, ceramics, film, video, and digital art. With members nominated and elected by their peers the RCA has, since 1880, come to represent many of Canada's most distinguished visual artists and designers. The objectives of the RCA are to encourage, improve, promote, support and cultivate the visual arts through its many activities.Some prominent Canadian architects who served as President of the RCA include McGill Professor Percy Erskine Nobbs, John C. Parkin, and Macy DuBois.
---
---
Lynda Hayward Hon. MRAIC
Administrative Director
NEWFOUNDLAND AND LABRADOR ASSOCIATION OF ARCHITECTS
 Street Address:
7 Downing St. John's, NL, A1B 2R9
 Mailing Address:
P O Box 5204, St. John's, NL, A1C 5V5
 Tel: 709.726.8550 / Fax: 709.726.1549
 nlaa@newfoundlandarchitects.com
---
---
---
---
Invitation to the IDNL Forum & Function Event – Thursday October 2nd Sheraton Hotel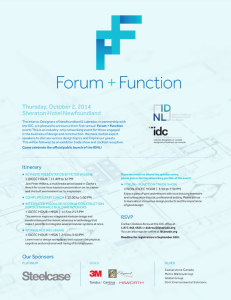 The Interior Designers of Newfoundland and Labrador, in partnership with the IDC, are pleased to announce their first-annual Form + Function Event!  This is an industry-only networking event for those engaged in the business of design and construction.  We have invited expert speakers to discuss various design topics and inspire our guests.  This will be followed by an exhibitor trade show and cocktail reception.
Come celebrate the official public launch of the IDNL!
---
New Building Canada Fund
The Department of Municipal and Intergovernmental Affairs will soon be soliciting applications for the New Building Canada Fund.
---
 NLAA Fall Lecture Series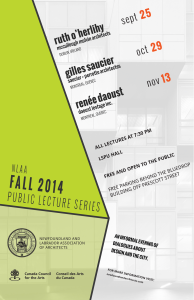 The 2014 Fall Lecture Series features three architects or urban planners from various backgrounds and design perspectives that pertain to architectural and urban design issues in Newfoundland and Labrador.
All lectures are free and open to the public – starting at 7:30 PM at the LSPU Hall on each respective date.
SEPTEMBER 25, 2014: Ruth O'Herlihy  McCullough Mulvin Arcitects      Dublin, Ireland
OCTOBER 29, 2014:   Gilles Saucier  Saucier + Perrotte Architectes   Montreal, Quebec
NOVEMBER 13, 2014:  Renée Daoust    Daoust Lestage Inc.              Montreal, Quebec
---
RAIC / AAA Festival of Architecture 2015
The deadline for proposals is Oct. 30, 2014.
The Alberta Association of Architects and RAIC invite submissions for Continuing Education presentations for the 2015 Festival of Architecture themed (Re)generation + Integration, being held June 3-6, 2015 in Calgary, Alberta.
---
Circular – 2015-2016 Municipal Capital Works Program invitation
Applications are invited for the 2015/2016 Municipal Capital Works Program. The deadline for the receipt of applications for the 2015/2016 Municipal Capital Works Program is October 17, 2014.
---
Southcott Awards Nominations – May 14th 2014
            Please note, the Call for Nominations for the 2014 Southcott Awards, on behalf of the NL Historic Trust, has been extended; the new Submission Deadline is now  May 19, 2014.
            The attached 2014 Southcott Award Nominations document provides further information.
---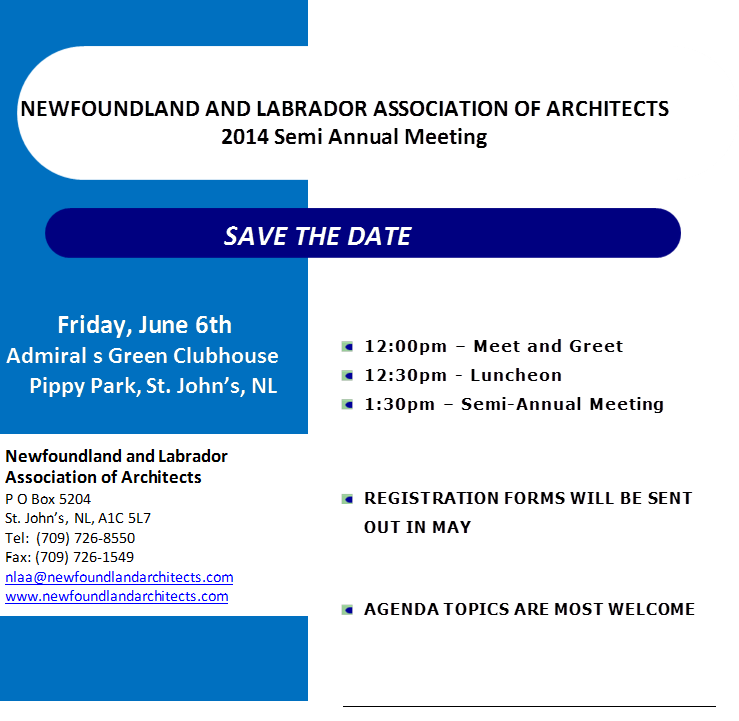 NLAA 2014 Semi Annual Meeting:     June 6th 2014
ALBNL 5th Annual General Meeting:   November 21st 2014
NLAA 65th Annual General Meeting:  November 21st 2014
---
The Architectural Institute of British Columbia invites submissions from those interested in speaking, participating in panel discussions or facilitating interactive workshops at the 2014 AIBC Annual Conference, October 8-10 at the Vancouver Convention Centre West.  This year's conference theme is Shifting Perspectives. The theme acknowledges that, as a society, we are continually re-inventing the way we think, live, work and play in our world. Architects respond to this ever-changing landscape by evolving in many ways – from the way they communicate and conduct business to the way they plan and build for the future. Naturally in the process, points of friction arise, which keep architects engaged and excited. How architects respond will determine architecture's relevance in years to come.
The Architectural Institute of British Columbia's annual conference brings together architects, intern architects, architectural technologists, builders, engineers, interior designers, faculty, students and other members of the design community to learn about new industry trends, technological advances and best practices. This annual gathering, the largest of its kind in British Columbia, is also a chance to network, socialize and celebrate the innovative, impactful work of practitioners and theorists. The conference runs over three days and includes a keynote presentation, plenary sessions, seminars, workshops, panel discussions and an industry exhibitor show.
This conference is expected to include a particular focus on matters related to the Pacific Rim, including information pertaining to future design directions, community needs and business practices. As in previous years, the conference will be rich in professional development, dialogue and network-building opportunities. An anticipated 400–450 delegates will be in attendance.
For more information and a link to the Proposal Submission Form: http://aibcenews.wordpress.com/2014/03/13/call-for-papers-2014-aibc-annual-conference
---
NL Historic Trust is looking for new members to sit on their Board of Directors. The Trust is holding their AGM on Wednesday March 19, 2014 at 7:30 p.m. Location: BIS Building, 30 Harvey Road. Guest Speaker: Dr. Gerald Pocius Anyone interested in joining the Trust and/or sitting on the Board of Directors is welcome to attend the meeting.
---
RAIC, the Canadian Institute of Planners (CIP), and the Canadian Society of Landscape Architects (CSLA) are pleased to announce a Call for Submissions for the 2014 National Urban Design Awards. Winners from existing urban design awards in select cities will automatically be submitted to the National Urban Design Awards. Any individual or organization in any Canadian urban municipality can submit a project.
---